Xuetao Members' Tourist
---
Abstract:Inordertoenrichstaffwelfare,wuxiXuetaoGroupheldatouristtoZhoushanIslandonDec.30thwhiletheproductiontaskistight.Allworkerswentintothenatureandreducepressurefromwork,enjoyedthemselves. Intheear
Abstract:
In order to enrich staff welfare, wuxi Xuetao Group held a tourist to Zhoushan Island on Dec. 30th while the production task is tight. All workers went into the nature and reduce pressure from work, enjoyed themselves.
In the early morning of Dec. 30th, all members well- organized and waiting for the bus at the company. Through long time travel, all people were tired but still excited. When members arrived Zhoushan, delicious food had already prepared by tour guide, after lunch, they went to Zhujiajian Sand Sculpture Art Center and took photos for memory. In the afternoon, they visited some famous sceneries of zhoushan Island.
In the evening, Xuetao Group arranged dinner for all members, thanks the workers' hardly work of the whole year. During the dinner, Chairman of the board, Mr. Qian Zhuyun, General manager, Mr. Zhang Hua, bring their best wishes to everyone.
On Dec. 31st, the last day of 2013, Xuetao members took the boat to Putuo Island and visited Putuo temples as well as beautiful sceneries. Everyone made their best wishes for 2014.
After finishing visit Putuo Island all Xuetao members went back in the afternoon, the tour come to a happy ending.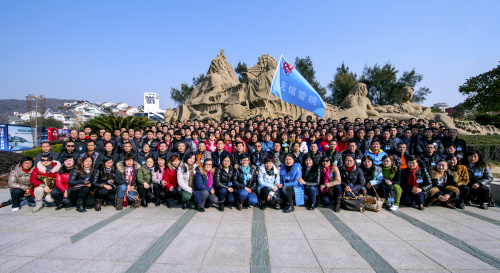 Xuetao Group Members